Our Location
Conveniently located just south of the A30, near the Devon Cornwall border, in a peaceful settlement close to the Tamar Valley, your stay in our historic family home will provide a quiet and relaxing base for days out exploring this fascinating area of the Country.
Set out each day in a different direction, and whatever your interests, you will experience new delights. To the East lies Tavistock and Dartmoor, to the West Launceston and its castle, the Tamar Valley with its mining heritage, Bodmin Moor and Jamaica Inn. Cornwall's dramatic North coast is within easy reach, or to the South the Maritime City of Plymouth, and a softer coast line.
If outdoor activities are your thing there are a wide variety of walks and cycle trails, as well as a climbing barn close by, sailing at Roadford and Siblyback reservoirs, and of course surfing on the North coast of Cornwall.
For detailed directions on how to find us, please visit our Find Us page.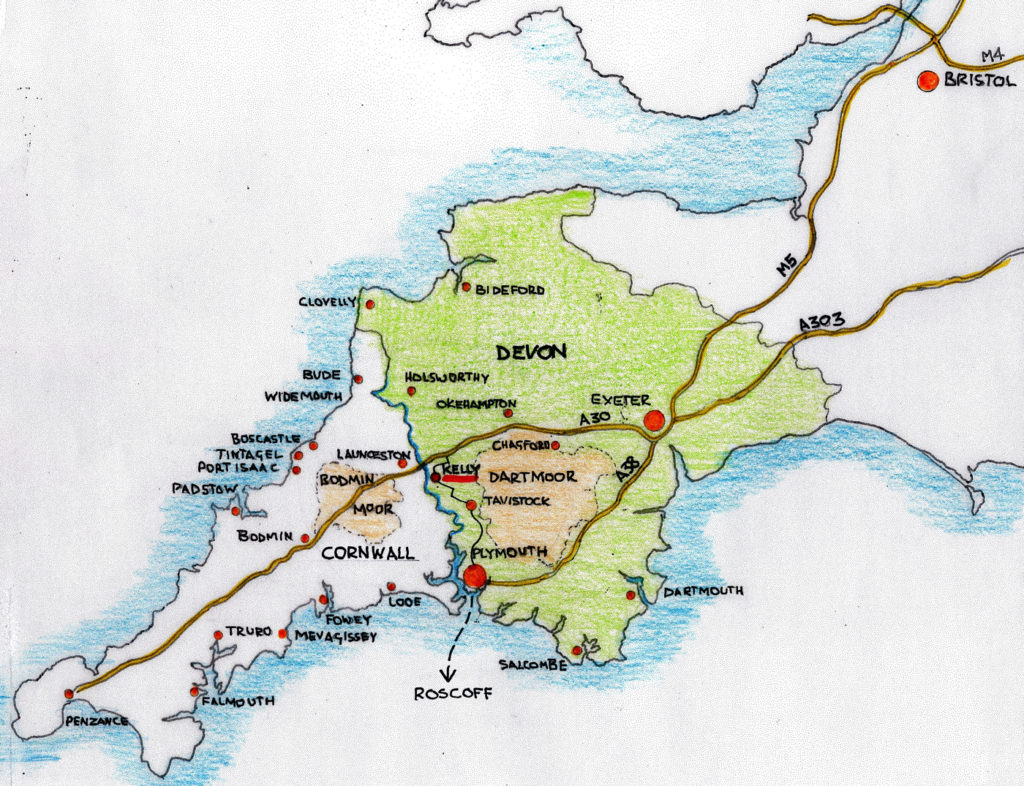 Invitation to View Tours
We are delighted to have joined up with Invitation to View, to offer an exclusive chance to look around the house and some of the rooms that aren't normally open to the public on our group tours. The Invitation to View tours will be longer than the groups tours and will be followed by tea and home made cake in our tea room.
For more details about the Invitation to View tour and to find our how to book please click here
You could also take a look around their website to find out which other house in the South West are also offering this wonderful opportunity.

Private Group Tours
A tour generally takes about an hour and consists of the exterior and ground floor of the house, and contains detail of the history of the buildings and the family. it would end in our Tea Room which is the oldest room in the house. Should your members have an interest in any particular aspect please let us know and we will see what information we have available.
We can manage a maximum of 25 people on a tour. Should your numbers exceed this we would need to split the group in two. If nearer the time this seems likely we could adjust the timing of your visit so that it would fit more comfortably into the day.
We have limited facilities for disabled people. the ground is uneven and there are a number of steps in places. We have ramps available for access to the ground floor of the house, and the tea room, which also has a large threshold on its approach. We have no auditory or visual aids at present. We have successfully accommodated visitors in wheelchairs last year, and would be happy to discuss particular points with anyone prior to your visit to see if we are able to provide for their needs. Particular dietary needs could also be met with prior notice.
CHARGES
£12 per person, with a minimum fee of £150. This would include a cup of tea or coffee and biscuits. Other refreshment could be provided if required at an additional cost. We would be happy to discuss this with you if it is an option.
We would need payment and confirmation of numbers a minimum of 1 week before the visit.
A form to book a group tour can be downloaded here.
If there are any matters that you wish to discuss please email us at –
Sophia@kelly-house.co.uk
Or telephone – Sophia on 01822 870363
– Warin on 01822 870393

Teas – End your group outing at Kelly
If you are a walking, Cycling or car touring group, why not finish your day out with Tea at Kelly House. Our Tudor Tea room provides a warm and unique space to enjoy a cream tea or homemade cake. With it's Jacobean panelling and large open fire you can enjoy a relaxing end to the day with Tea served in vintage china.
We can provide pre booked teas for groups of 15 -36 in our Tudor tea room from £4 per person.